Righty, I had the idea of keeping a log of the products I am using up for two reasons: so you guys can see what I've been loving/hating and also so that I can reassure myself that I'm making use of some of the many delightful things I find myself 'accidentally' purchasing.
Here are the products that are starring in my first post of this kind: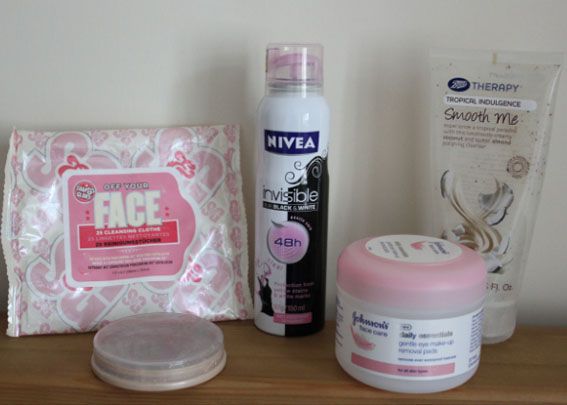 1. Soap and Glory Off Your Face Cleansing Cloths
- I believe I bought these from
Boots
for around £4.50 for 25 cloths. I'm quite the fan of this range in general and I do love the smell of their lotions and potions, but something about these struck me as decidedly average. I tend to use face wipes for when I'm travelling or staying somewhere other than home for convenience. These do the job and left my skin feeling clean, but I found myself having to rub my eyes harder than I really should to get my makeup off (naughty) and they left my eyes a tad stingy too. It's a shame really as I really wanted to like these!
2. Rimmel Stay Matte Pressed Powder
- again from
Boots
and purchased for a bargainly £3.99. I do love my MAC Mineralize Skinfinish Natural but occasionally I don't feel like splurging and when this happens, this is what I get. I usually get the transparent powder to set my foundation and concealer and find that I barely have to touch it up during the day (unless I rub my face excessively). A product I'll always recommend people try.
3. Nivea Invisible 48hr Deoderant
- let's say I got this from
Superdrug
(I think I did!). That link takes you to the one with the blue lid which I really don't rate as it smells of old ladies. Get the one above :) This tends to be on a BOGOF offer quite a lot in several high street shops and I try to pick some up whenever this is the case. No marks, no stickiness, no overpowering smell, lovely.
4. Johnson's Daily Essentials Gently Eye Make-up Removal Pads
- £3.29 from
Boots
. I actually went and bought these to use with the Soap and Glory wipes and I'm glad I did! These work wonderfully at getting stubborn mascara off and don't leave any oily residue on the skin after use. You get 30 in the tub which lasted me just over two weeks (1 per eye) and considering such a good job they do I'd say they're very good value for money.
5. Boots Therapy Tropical Indulgence Smooth Me
shower gel - good old
Boots
! To be honest I picked this up last year after I'd got back from my holiday in Corfu and wanted to hang on to the coconutty exoticness for a little longer (I should write my own dictionary shouldn't I?) This is a fairly bog standard shower gel, but smells absolutely wonderful.
That's all for now, if you're interested in any of the products mentioned just click the links above to be taken to their respective websites (or where I got them from anyway).
Let me know if you've finished any products recently that deserve a try :)