Whoops, it seems like it's been rather a long time since my last post...I apologise. I was abroad for half of August and have been spending the remainder catching up with life. I seem to have timed my return well for the delivery of the She Said Beauty boxes. As you can see, mine is below: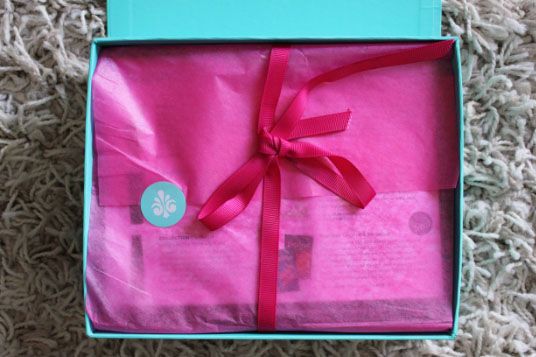 There seems to have been a little drama at their end this month as the wrong names got printed onto the wrong address labels. I have had only positive experiences with their customer service department and I knew that they would handle this mishap well. They let their customers know about the mistake well ahead of time and it seems like no harm has been done. In fact I quite enjoyed my five minutes of being Maddison.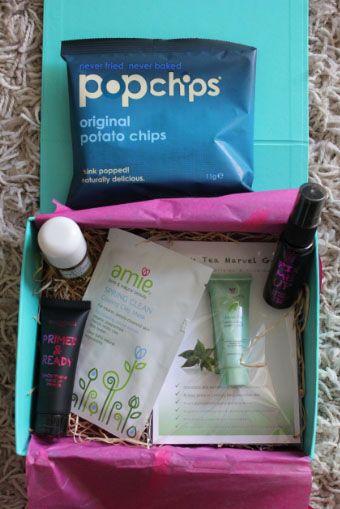 There's the visual overview, so what exactly can subscribers look forward to sampling this month? It's definitely an exciting selection!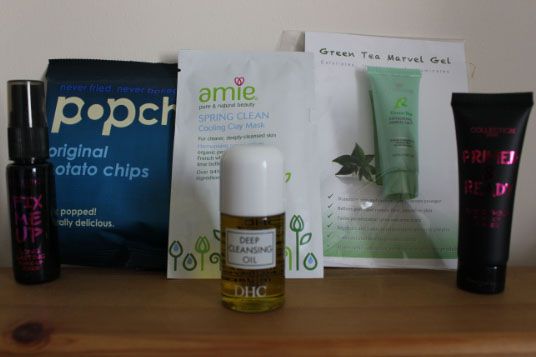 1. Collection 2000 Fix Me Up Long Lasting Make-Up Fixer - I've always felt a little 'meh' about Collection 2000 and I've never really been that inspired to try their products. However I'm not one to say no to samples! This and the primer detailed below are full size products and retail for £5.99 each so I can't complain really. This product claims to, well, keep make-up in place throughout the day. I'll definitely be giving this a try while the weather is still behaving and my make-up risks going a little south!
2. Popchips Original - Well a food product isn't exactly something you'd expect in a beauty box, but I'm going to roll with it. There's only 46 calories in this bag which should keep me feeling virtuous.
3. Amie Spring Clean Cooling Clay Mask - A brand that is new to me. This is a deep cleansing mask which claims to get rid of dirt and impurities, soak up excess oil and prevent blemishes. It is free from parabens, sulphates, mineral oils, GMO and animal extracts. This sounds perfect for a pampering day where I fancy scaring the living daylights out of the boyfriend. This retails for £4.95 full size.
4. DHC Deep Cleansing Oil - Another full size product, oh She Said Beauty you are really spoiling us this month! This is designed to remove make-up and generally cleanse your skin. You dispense it into dry hands and massage it on to a dry face where it can work its magic. I have little experience using cleansing oils apart from those specifically meant for removing eye make-up so I'm really looking forward to trying this. In the shops it is available in three different size bottles (this one is perfect for travelling!)
5. Ginvera Green Tea Whitening Marvel Gel - Ooh another product from Ginvera. I really really liked the BB cream that they sent out in a previous beauty box and have been scouting their website for the a couple of other products to try so this is a nice suprise. This is an exfoliater which claims to stimulate the skin's metabolism, refine pores, fade pigmentation and scars, regulate and balance oil secretion, even out skin tone and aids the absorption of other skincare products. Wow. Let's see if that's the case! I'd hope so as the full size version of this product is a significant £22.
6. Collection 2000 Primed & Ready Smoothing Make-Up Primer - Finally another product from Collection 2000 and this time it's a primer. I'll be looking into using a primer more often as we sink deeper and deeper into the cooler months so this seems like as good as any to try! I'm not too sure about the packaging of the two products here from this range. It screams Comic Sans a little bit.
Well there we have it, no huge names but a generous selection of a range of products. Do let me know what you think of these products if you have also received them this month. I hope to let you know my opinions as I use them. Be sure to
follow me on Twitter
to make sure you keep up to date with my ramblings :)