Hello! To distract myself from the horrendous weather we've been having here I thought I'd write a post about some of the products I've been loving lately. Without further ado I'll get started and show you a summary: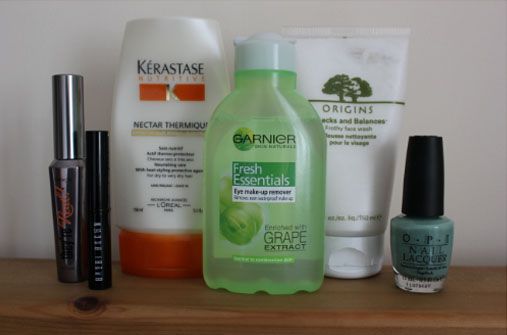 As you can see there are a few higher end products here. I promise this is just a coincedence and I'm not going all posh on you ;)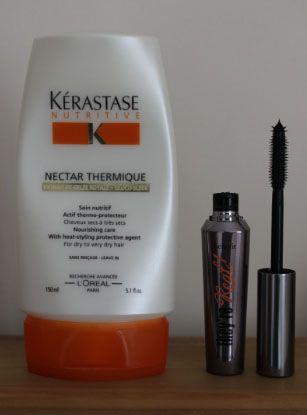 1.
Kerastase Nectar Thermique
- £16.10 from Feel Uniqe. I bought this after reading countless reviews on how wonderful this is and deciding that it would really suit my(fine, a little dry). I haven't been disappointed and despite the hefty price tag I'm certain that I will repurchase it. It protects my hair really well from the dreaded straightening irons, makes it so easy to style and incredibly soft. Although it's a creamy formula it doesn't weigh down my hair or leave it with any residue. Lovely stuff.
2.
Benefit They're Real! Mascara
- £18.50. I was a little unsure of trying this as I had a decidedly 'meh' experience with their Get Bent mascara, but again the rave reviews sucked me in. Oh and I'm glad they did! This is now the UK's best selling mascara and actually does lengthen, volumise, curl and separate lashes. I haven't experienced any smudging or flaking when wearing it either. Highly recommended!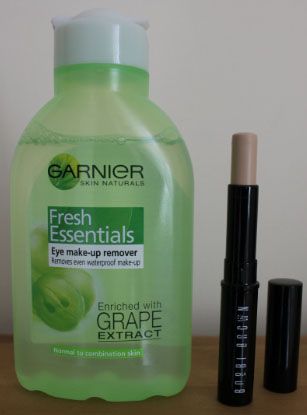 3.
Garnier Fresh Essentials Eye Makeup Remover
- £3.15 from Boots. See, a drugstore product! I picked this up when I was in my local Sainsbury's doing a food shop and it was a half price steal. I'd run out of eye makeup remover and bought the first one I saw. This smells amazing and is so soothing to tired eyes. It claims to remove waterproof mascara and it does with a little persistance and a few cotton wool pads, but I wouldn't use it for heavy makeup unless I wanted to use half the bottle. Ideal for everyday use.
4.
Bobbi Brown Face Touch Up Stick (in 00 Porcelain
) - £19. I've been really impressed with this concealer, I haven't tried many Bobbi Brown products and this is the reason I might explore further into the brand in the future. It's a thick, full coverage product designed to cover up blemishes and uneven patches on the skin. As it's so thick I wouldn't recommend using it to conceal undereye circles as it may crease.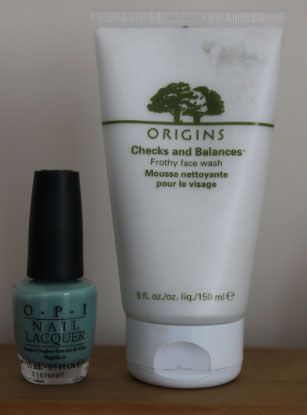 5.
OPI Mermaid's Tears
- £11. Quite simply this has to be one of my favourite colours. Just look at it. I love to add a coat of silver shatter polish over the top to make it look extra special. This polish is from the Pirates of the Caribbean collection.
6.
Origins Checks and Balances
- £17. This is a foaming face wash. I usually tend to use cream cleansers in my skincare routine, but I was looking for something a little different to use with my Clarisonic Mia. I have combination skin so a product that claims to soak up excess oil and moisturise my dry bits at the same time sounds too good to be true, but it's right here in this tube. It leaves my skin feeling fresh and smooth and as it's made from natural ingredients I can be happy knowing that nothing nasty is being massaged into my face.
I hope you've enjoyed this little update, let me know if you'd like me to review any of the products above in more detail. Have a lovely weekend!